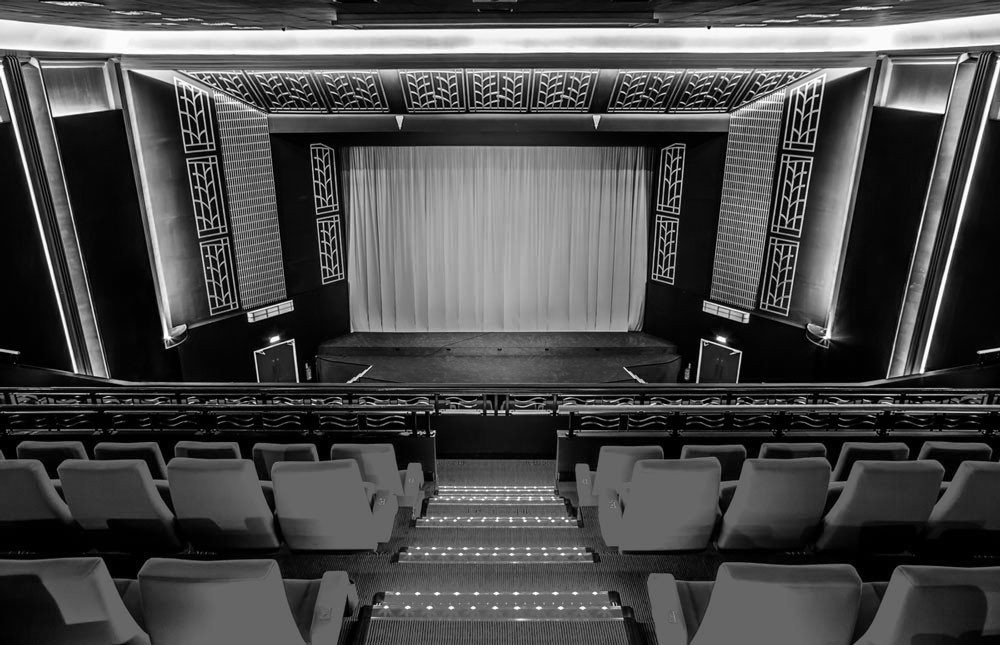 Tickets are not refundable.
With 24 hours notice before a performance, a transfer can be organised - a processing fee of £2 per ticket will be applied to each ticket. Any transfers will be at the sole discretion of the Manager on duty.
Your ticket includes the Film & The Odyssey.
Please be aware:
If you have not booked all the seats at a table or have left a gap between seats you may be sat with others not in your group. Your ticket entitles you to sit at your numbered table, it does not guarantee you a specific seat (e.g. ABCD etc)
Cancellations
If an event is cancelled and the cinema is unable to reschedule it, advance tickets can be refunded or a credit note can be requested.
The £2 booking fee online is not refundable. This is inclusive of a cancelled performance.
Booking Fee
To purchase tickets without the booking fee, please call the box office (01727 453088) or purchase your tickets in person (during box office opening hours).
Delivery
We do not post tickets out. We recommend you use your e-ticket to gain access to the screen.
However, if you lose your tickets we can reprint them at any till point.
Food & Drink
Outside food and drink are not permitted in the cinema.
Bringing in outside alcohol is a breach of our licence.
ID
ID may be required for age-restricted titles. More info: bbfc.co.uk
Noise and disruptive behaviour
The Odyssey exists with the purpose of delivering you with a great cinema-going experience.
We respectfully ask that you consider the results of you and your guest's behaviours toward our staff and other paying members of the audience.
It is not acceptable to make unreasonable noise nor display antisocial behaviour; this includes the use of phones and tablets that distract from the viewing pleasure of everyone else.
We ask that you leave the auditorium if you have no choice but to check these devices.
Access
The Odyssey allows access to the cinema to all members of the community.
We often welcome visitors to the building with a disability, including patrons who may make involuntary noises.
The Odyssey will not ask a disabled patron making an involuntary noise to leave a performance however we have a duty of care to understand where the noise is coming from, why the noise is being made, and what we may be able to do to assist the person making the noise. All staff must adhere to this policy.
Babies
No buggies can be taken into the auditorium.
We recommend you use a bassinet or carry your baby in a sling.
If your baby causes a disturbance during the film we kindly ask you to take them up to the foyer until they are settled.
If your baby is unable to settle and you must leave the showing we are not able to offer a refund.
Disruptive and antisocial behaviour will be determined at the sole discretion of The Odyssey Cinema Manager on duty.
In the event of a dispute, the cinema manager's decision is final.
Please respect that what you may think is an acceptable level of noise is not necessarily shared by those around you.
Gift Vouchers and Credit Notes Terms & Conditions
Gift Vouchers and Credit Notes are valid for 18 months and cannot be extended.
When redeeming Gift Vouchers and Credit Notes online, the £2 booking fee is required. This fee is to cover the cost of the booking site. Please call the box office to make your booking without a fee.
Gift Vouchers and Credit Notes can be used as payment for cinema tickets both online and in person and refreshments sold in The Odyssey Cinema, St Albans.
If you partially redeem a Gift Voucher or Credit Note online you will receive a new code for the remaining credit in your e-ticket email.
Gift Vouchers bought online are e-Vouchers only. If you would prefer your voucher in a gift card and envelope please call the box office or visit us in person (currently collection only).